Internships & Career Information
Internships:
Internships play an integral role in the SFBS curriculum. The two required internships within the SFBS Program provide students with experiential learning and networking opportunities to successfully embark upon a career related to food systems work. The first internship (SFBS 298: Towne's Harvest Practicum) is an on-campus internship that takes place at Towne's Harvest Garden (located on the MSU Horticulture Farm, adjacent to campus). The second internship (SFBS 498: SFBS Internship) is an off-campus internship that the student selects largely based upon their career goals and aspirations.
Careers for SFBS Majors:
Students receiving a Bachelor's degree in Sustainable Food and Bioenergy Systems (SFBS) from Montana State University will be prepared for a variety of careers in the expanding arena of sustainable food, energy and agricultural systems.
Sustainable Crop Production Option
Graduates from this option find careers in conventional and organic farming; as crop production specialists and consultants; in pest management; in seed, fertilizer, and chemical industries; with banks and other lending institutions; and as managers or coordinators of CSAs and local food organizations. Other career opportunities exist in the Cooperative Extension Service, state and federal agencies, and private or nonprofit organizations.
Sustainable Food Systems Option
Graduates from this option are prepared for careers in community nutrition, community food security, public health, Extension education, food and nutrition policy and education, food enterprise, culinary arts and management, community supported agriculture, food processing, food marketing, retailing and distribution.
Agroecology Option
Graduates from this option find careers in environmental industries and consulting firms that solve problems associated with agroecosystems or agricultural practices; government jobs in environmental management and policy making; agricultural industry positions associated with precision agriculture, pest management, general agronomy, and information services. Students will be prepared for graduate training that leads to independent research in basic and applied ecology, environmental biology, cropping systems, precision agriculture, ecologically-based pest management, or weed science.
Sustainable Livestock Production Option
Graduates from this option are prepared for careers in both the production and allied industries associated with animal agriculture. The degree will also prepare the student for opportunities in extension and graduate work.
Below, is a list of current job announcements for which SFBS graduates will be well prepared.
Some Current Positions for SFBS Majors
Grassroots Organizer. National Sustainable Agriculture Coalition, Washington, DC. The National Sustainable Agriculture Coalition (NSAC) is an alliance of family farm, food, conservation, and rural organizations that together take common positions on federal agriculture and food policies, and support grassroots efforts to win long-term policy change. NSAC's Grassroots Organizer will assist the NSAC Grassroots Advocacy and Outreach Coordinator with alert coordination, media, and member mobilization and capacity building to advance the NSAC 2012 Farm Bill platform. For a full job description, visit NSAC's Jobs Page.
Sustainable Farming Internships and Apprenticeships Website. Interactive directory of on-the-job learning opportunities in sustainable and organic agriculture by the National Sustainable Agriculture Information Service.
Peace Corps Seeks Members with Sustainable Agriculture Skills. Sustainable farming skills and knowledge are needed in developing nations to help tackle global climate change and world hunger. Since 1961, Peace Corps Volunteers have helped communities address food shortages and poor nutrition by building school gardens, developing community gardens, hosting nutrition workshops and more. There is currently a pressing need for volunteers who have practical knowledge in sustainable market gardening techniques. For more information contact Frank Higdon.
Automatically generated content from external websites will appear below when available.

Current jobs from Sustainable Food Jobs
Current Jobs from Indeed.com (Keywords: sustainable, food)
Current Jobs from Indeed.com (Keyword: bioenergy)
Link to jobs archive. These jobs were posted in the past, but can provide SFBS students insight into the types of jobs and employers that might be hiring in the future.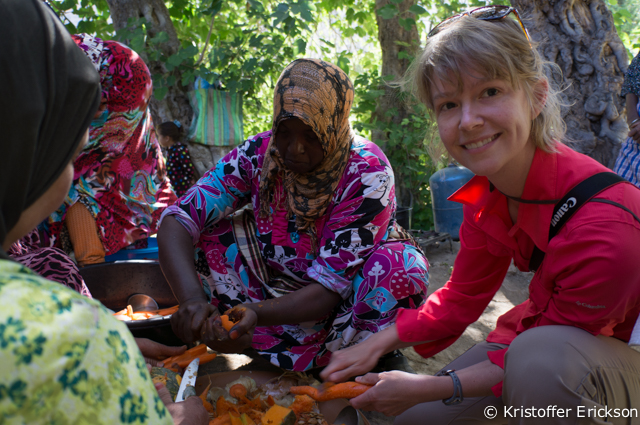 International Opportunities:
Morocco: Sustainable Community Development - 2015 Summer Program
Credits: 6 SFBS (summer semester) 1 SFBS (spring semester prep course)
Program Dates: May 20 to June 24, 2015
Application Deadline: January 30, 2015
The program is an international service learning program specifically designed for SFBS majors in the rural region of Zawiya Ahansal, Morocco located deep in the High Atlas Mountains. The focus of the program is a five-week hands-on field experience in partnership with the Atlas Cultural Foundation, a US non-profit organization, their local partners, and local tribal leaders and community members. Students will have the opportunity to work on ACF's ongoing community and environmental health programs. Students will work side by side with local farmers to analyze and solve local food system issues, work with traditional agricultural methods, materials and tools, understand nutrition-related health implications of food system change, and see firsthand the impact their knowledge can have on the revitalization of a community. The program is a unique opportunity to observe a food system from the outside, reflect on what you learn and bring it back home. The program will focus on the entire food system from water sources, to farming, harvesting, and nutrition. Please visit the following websites to learn more and to download an application. Questions? Contact Alison Harmon: harmon@montana.edu or Carmen Byker: carmen.byker@montana.edu.
General Program Website
http://atlasculturaladventures.com/summer/
SFBS Program Website
http://atlasculturaladventures.com/food-systems/
Atlas Cultural Foundation Website (Program Non-Profit Partner)