Purple Frog Gardens in Whitefish, Montana
"Growing food is what you'll do, growing community is what you'll learn, growing yourself is what is unleashed."
- Pam Gerwe, Purple Frog Gardens
Overview of Organization:
Purple Frog Gardens is a small sustainable market farm, located in Whitefish, Montana. The garden sells at farmer's markets as well as to local grocers and restaurants. They raise about 400 laying hens and compost leaves and grass clippings from many sources in their area.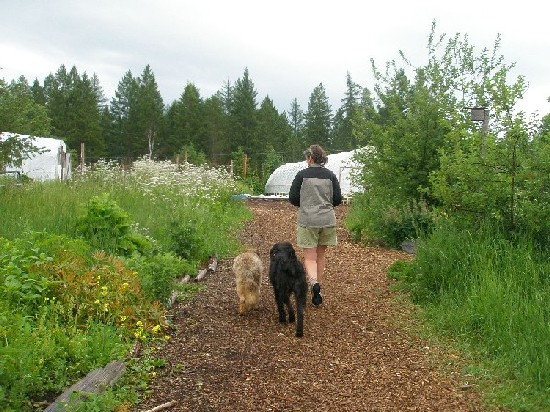 Possible Intern Projects at Prairie Heritage Farm:
If you intern at Purple Frog Gardens, you are expected to work on the farm for 15 hours/week in exchange for room and board. However, your experience will be customized to create an internship that is personalized to your interests. Some ideas for projects include:
Organize volunteer days at Purple Frog Gardens
Work with youth education project, such as a local summer theater camp promoting local foods
Explore Food storage/preservation projects
Help to transform the fledgling orchard into an orchard of opulence
Work on a bee project
Be a communications guru to get the word out to media on projects at Purple Frog Gardens or about other local food projects
Gain experience on agriculture communications and economic development issues while working on a legislative campaign
Help to initiate a small scale grain production project at Purple Frog Gardens
Develop an on-site sustainable chicken food program at Purple Frog Gardens
Internship Logistics:
Room and Board: For 15 hours of work per week, interns at Purple Frog Gardens will receive room and board. Accommodations consist of a private cabin and communal kitchen.
Stipend: There is no stipend available over and above room and board.
Minimum Age Requirement: Interns must be 21 years of age or older.
Preferred Length of Internship: Would like interns to be onsite for 8-10 weeks.
Other Requirements: Interns are required to attend weekly meetings. Purple Frog Gardens non-smoking throughout the whole farm.
Contact Information:
Name: Pam Gerwe
Phone: (406) 862-0621
Email: pandora@cyberport.net
Address: 170 Blanchard Lake Drive; Whitefish, Montana 59937